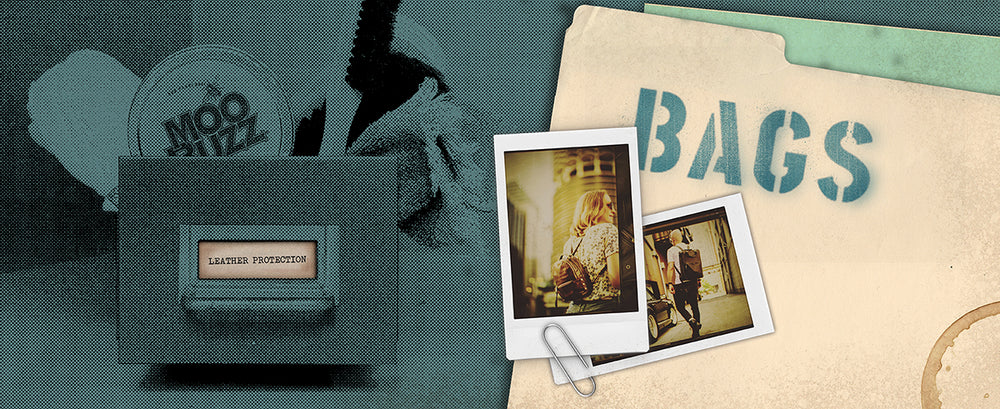 When you protect your leather, sustainability can be in the bag. Like a lot of people, lately, you may be thinking even more about what you buy – the quality and the care. And leather can last forever if you take care of it. We're gonna talk to you about how to protect the leather you have.

Read on for some cobbler-approved tips to revive your favorite leather items, like your go-to purse or new duffle. We'll also have blog posts on protecting your baseball or softball gloves and leather jackets.
Here's How to Condition and Waterproof Your Leather Bag

What you'll need:
Large old towel (to protect your lap)
Small old towel for your hands
MooBuzz® Horsehair Shine Brush (optional)
Buying and using a nice leather bag is so satisfying. As our needs change with different projects or seasons, we may switch them out – but we often keep our nice bags to use again and again.

Nice quality leather will last multiple lifetimes if properly maintained. Many times any need for repairs are a result from the failure to simply condition and properly store the bag.
Now, let's get started:
Before applying any type of conditioner to your leather, make sure it's clean and dry. If your bag is pretty darn clean, just wipe the outside and inside with a damp, soft cloth.

Make sure to open all pockets and wipe them out or shake the bag upside down to remove any accumulated grit.


If your bag is really dirty, here are the steps to follow:

If the bag is lined, open all pocket zippers or flaps. If the lining is "free," that is, sewn in at the top of the bag, gently pull the lining up and out of the bag. (Do this over a trash can.) Shake out any accumulated crumbs, coins, bits of paper, etc. from inside the bag.

If the bag is lined but the lining doesn't come out, just open the pockets and give it a good shake upside down. If necessary, use a damp cloth to loosen debris from the bottom of pockets and along the seams of the lining. 


Mix up a mild solution of dish soap and water in a bucket or sink (using three or four drops of detergent to 1/2 gallon of water). You don't want a lot of suds. Do not submerge your bag in the water.

Instead, thoroughly wet a large soft cloth in the soapy water and then wring out most of the water. You want the cloth fairly wet but not dripping. If you previously removed the lining, push it back into the bag, and adjust it back to where it belongs. 


Now, using a circular motion, quickly and with a light touch, wash the entire surface of the bag from bottom to top, including the handle(s) and strap(s), the inside lining, and all of the pockets. Rinse and wring your cloth frequently. 


The cloth will begin to drag or roll up on the leather if it's too dry. Again, you want the cloth to be fairly wet, but not dripping. Move quickly, and avoid rubbing too hard on any one area of your bag.

Some spots may look darker and wetter, and that's ok. Just proceed to lightly wash the entire bag.


When you're finished washing the bag, dab it all over with a soft towel to absorb any excess water. Then hang it by the strap on a wooden hanger and allow it to air dry - no heat.

If your bag doesn't have straps to hang it from a hanger, open it up and invert it over anything you have that will fit inside, like a quart jar or tall vase, etc.


When your bag is dry, apply a light coat of MooBuzz® All-Natural Leather Protection. An easy way to do this is to get a cloth fairly saturated with a MooBuzz® Product, and rub the cloth lightly over the entire bag.

Allow it to absorb for about 20 minutes, and buff with your MooBuzz® Cleaning Cloth, followed by a brisk rub down with a MooBuzz® Shine Brush.
Your bag is ready to use! If you won't be using it right away, store it in a cotton bag or an old pillow case until you're ready to put it back into action.